Estero Wild Blue Community
Posted:
The Estero Wild Blue community is a new, emerging development of Pulte & Lennar Homes. Located among a rustic 220 acre expanse graced with dense preserves, lakes and meandering waterways, the Estero Wild Blue community is situated on lands beside Miromar Lakes Beach & Golf Club and is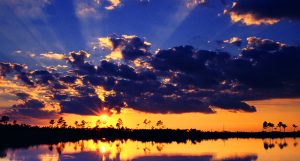 bordered by Alico Road to the north and Corkscrew Road to the south. Beyond its status as a new residential enclave, the Estero Wild Blue community represents a remarkable ideal in environmental restoration. The lands here formerly served in mining and agricultural operations.

Developers have since taken steps to remove invasive plants, thus enabling waterways to return to their natural flow. They've set aside preserve that will remain in natural state of bliss and plan to also created vegetated pathways to better allow for the migratory habits of indigenous critters that thrive among this habitat. Indeed, with its massive lakes, woodlands and waterways, you'll find the Estero Wild Blue community to be one of the most naturally beautiful residential areas in Southwest Florida.
Estero Wild Blue Community Homes & Amenities
The single-family homes within the Estero Wild Blue community will reportedly sell starting from the $400s to more than $1million. Home features are said to include open-concept design, gourmet kitchens and quality, designer-style fixtures and finishes.
As for amenities it is anticipated that residents will enjoy a range of recreational option. The community is planned to be complemented with tennis and pickle-ball courts, bocce ball and a resort-style swimming pool. There will also be a club house which comes with a fitness center and space allowing for private activities.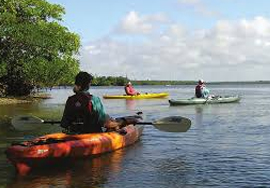 Nature enthusiasts will enjoy community walking trails as well as the opportunity to kayak among the expansive lake and community waterways.
Location, in itself, will add to the appeal of life here. The Estero Wild Blue community is positioned mere minutes from amazing shopping, dining and entertainment venues, such as Gulf Coast Town Center.
Residents will find many upscale boutiques, brand name retailers and an array of popular restaurants only moments from their homes. There's also entertainment that awaits nearby at Germain Arena, a home to hockey, concerts with famous recording artists and other special events.
For fans of collegiate sports, the community is close to Florida Gulf Coast University, a dominating force of athleticism in the Atlantic Sun Conference. Baseball fans are also close to spring training games with the Boston Red Sox or Minnesota Twins at their nearby home-away-from-homes in nearby Fort Myers.
Great golf courses, and of course, gorgeous Gulf beaches are also just a short drive from the community. For its location, rustic splendor and the quality of the new homes here, Wild Blue represents another great option for home buyers in Estero, Florida.
For more information, or to receive updates as development of this new neighborhood continues, simply submit the contact form below.
Other Homes for Sale in Estero