The Bonita Bay Omega is both the newest and final of high rise condominiums to be developed amidst this Alpha of gated, golf communities set in Bonita Springs. Bonita Bay can
easily be considered the Alpha of master-planned communities in Southwest Florida.When GNC Founder David Shakarian acquired the more than 2,000 acres bordering Estero Bay back in the 1980's, he took a far different approach in developing. Instead of gutting out and stripping away so many of the natural elements as was the tradition in that era, he held firm to a belief that man could exist in harmony with nature. Vast swaths of acreage were left preserved, homes were situated along lakes and waterways and the ultimate result remains one of the most naturally beautiful of communities. Combine this with amenities in three championship golf courses, tennis, spa, private marina with Gulf access and an elegant club house with one of the region's best dining venues, it's easy to understand how Bonita Bay not only earned distinction as the best master-planned neighborhood in America, but also became the very pioneering standard for which so many other gated-communities still strive to emulate.  How fitting, that in this Alpha of remarkable residential enclaves, they are now developing the Bonita Bay Omega.
When completed, the Bonita Bay Omega will reach 27 stories high and impart the pinnacle of luxury amenities among 63 private residences. The condos here have starting prices at a little more than $2million. Floor plans are depicted below.
Penthouse Residences
Bonita Bay Omega Amenities
Residents of Bonita Bay Omega will indulge in an array of exceptional amenities. The high rise is complemented with a private theater, game room, guest suites and state-of-the-art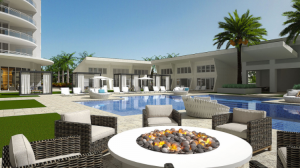 fitness center. Outdoors, there's a gorgeous pool as well as social areas with seating. What's more, residents have access to all the other amenities imparted at Bonita Bay. From five championship golf courses and tennis to the private beach club, spa facility and Gulf access marina, this is a community that offers all you could want, and then a little more.
For home buyers, Bonita Bay remains ONE OF THE BEST options in all of Southwest Florida.
For more information on the Bonita Bay Omega, or details on other homes for sale here, or to arrange a tour of the community, connect with me by submitting the contact form below.
Bonita Bay Homes for Sale